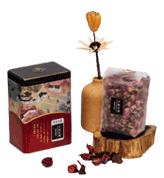 2019 Mid-Autumn Gift Set

YING KEE TEA HOSUE presents our gift set to celebrate the joyous Mid-Autumn Festival. The gift sets include Cheers Pu-erh Teh Kuan Yin Set, Delux Pu-erh Teh Kuan Yin and ranges in price from $198 to $408, which are perfect gifts to reward yourself and to families and friends.

For more details, please contact us.